CUI News in new design: first issue is available
7 May 2020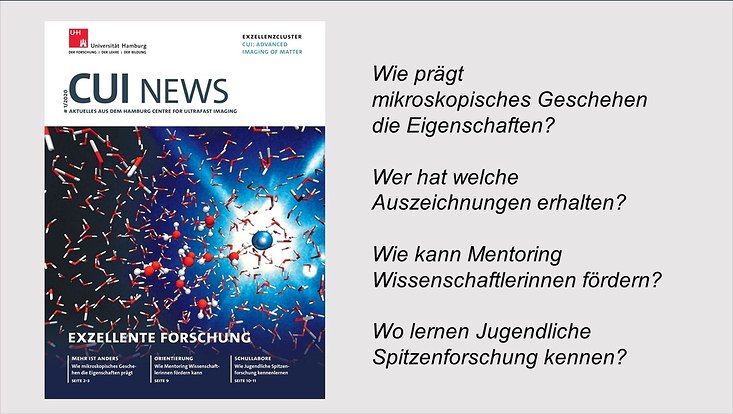 Photo: CUI
The latest issue of CUI News has been printed and is ready for distribution. With the new magazine we are continuing the successful series of the previous cluster: the title has remained the same, but after several years the time had come for a visual makeover. As always, the contents are completely new. We report on research in the cluster, introduce people who advance science a little bit every day, who are highly committed and who have received many awards for their work. And we report on programs with which we, as a cluster of excellence, want to drive new ideas forward.
Since the first issue in 2014, the editorial team has been practicing a balancing act. On the one hand, the aim is to provide the scientific community with an overview of the cluster's research and, with the help of research highlights, to arouse interest in the original publications. On the other hand, we want to give a broader public, which in everyday life has little or no involvement with scientific topics, a glimpse into basic research. The CUI News must therefore be scientifically correct and at the same time easy to understand and also interesting for laypersons. Just how challenging it is to manage such a balancing act is clearly illustrated by the general reporting in the Corona pandemic at present. At the same time, interest in scientific topics has risen sharply - but it was there long before the crisis. We feel it every time when visitors come to the campus and at every open day, when people happily take along our CUI News.
In the latest issue, you can read how the cluster is organised to deal with the scientific issues, which are among the most challenging research projects, and what exactly is at stake when researching functionalities. You will get a first insight into the progress the researchers are making and how accompanying measures such as prizes, visiting professorships or mentoring programs are strengthening the community. It is not without reason that Prof. Tobias Beck, who took up his professorship in Hamburg on 1 October 2019, speaks of a "unique environment" in Germany with regard to the entire campus. To give you a foretaste of the printed magazine, you can read the entire text about Tobias Beck (PDF) here in advance. Please note that the magazine is in German.
The CUI News was produced in January and February and went to press in mid-March. Since we have decided against online publication in advance, we would like to ask you to be patient: as soon as the development of the Covid-19 situation allows it, the printed magazine will go into distribution. We hope you will understand that some of the information provided, such as the planned number of visits to the school laboratories or announcements of dates, is unfortunately not up to date.
---