Physics and Chemistry School Labs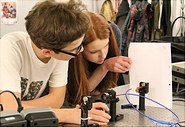 Physics School Lab "Light & Schools"
Light & Schools is an extracurricular learning venue that more than 2,000 students visit each year. They work here in whole class or course groups and come to Light & Schools up to ten times over several weeks to months. The students conduct independent research on modern topics in the areas of,
light,
lasers,
energy,
IT and
quantum technologies,
combined with lectures and direct insights into research at the Bahrenfeld campus.
To get female students in particular interested in the natural sciences, the school lab offers projects such as MINT-Pink and participates in Girls' Days.
Light & Schools is also involved in teacher training and in the further development of teachers.
The founder and director is Prof. Dr. Klaus Sengstock; the school lab is supervised by three researchers (including one permanent position) who work exclusively for Light & Schools.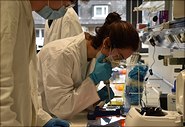 Chemistry School Lab "Molecules & Schools"
Molecules & Schools enables high school and middle school students to conduct their own exciting experiments in chemistry, nanoscience, and life science that cannot be done in school. Project topics include:
Nanoscience,
energy storage,
natural products,
enzyme kinetics and
genetic fingerprinting (high school graduation topic).
The number of participants increased from just under 200 in 2018 to 430 in 2019. 700 students were planned for 2020, and up to 1000 are expected in 2022. For career orientation, the chemistry school lab offers events for Girls' and Boys' Day, runs modules with female students as part of mint:pink and MINT4girls, and offers places for company internships.
Molecules & Schools is supervised by the employed scientist Dr. Skadi Kull and other tutors. Prof. Horst Weller is the director.
Giveaways
Both school labs are supported with publicity materials such as USB sticks, bookmarks, rulers, calendars.