This page:UHH > CUI: Advanced Imaging of Matter > Cluster of Excellence > Interviews and Portraits > Prof. Tobias Beck: "It's a great feeling to produce something new"
Prof. Tobias Beck: "It's a great feeling to produce something new"
7 May 2020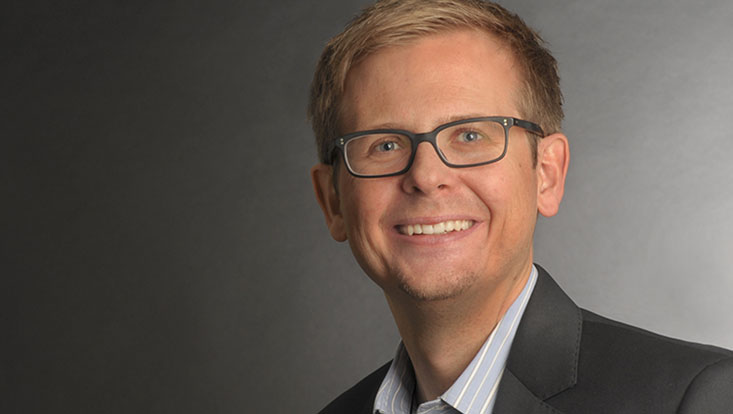 Photo: Renate Schütt
A border crosser between disciplines - this is how Prof. Tobias Beck describes himself. On 1 October 2019, the chemist took up a tenure-track professorship for "Inorganic or Physical Chemistry with a Focus on Structure and Dynamics of Molecular Systems in Nanoscopic Environments" at Universität Hamburg and in the cluster "CUI: Advanced Imaging of Matter".
In his research group, Beck combines nanoparticle synthesis with protein design, biotechnology and material characterization - in combination with the high methodological diversity, this is practically a unique selling point. This group now meets an environment in Hamburg that the researcher considers unique in Germany: outstanding scientists, excellent institutes, and an excellent infrastructure, including among others at DESY. "This is a like dream. Having access to beamlines right on your doorstep is super," Beck says. In addition, there is the interdisciplinary structure of the cluster, with which he can identify very well. "We work in a very interdisciplinary way. That's why it is important to frequently come into contact with colleagues, for example from physics. In the cluster, you are really exposed to new topics."
It had to be a club with an H in it's name
The move from Aachen, where he spent the last five years conducting research as an independent research group leader, also suits him for another reason: As a six-year-old boy, he was already committed to the HSV – being born in Hanover, it had to be a club with an H in it's name. Beck was also interested in chemistry from an early age, and his enthusiasm grew during his exchange year in Iowa: "The school was very well equipped; we were able to work with a graphing calculator, for example, which was something completely new at the time. My chemistry teacher was also very motivated and passionate about his subject."
Back in Germany, he took the advanced chemistry course and did his civilian service at the chemical investigation office in Münster. This was followed by the intermediate diploma in chemistry at RWTH Aachen University and a move to Göttingen, but also a great desire for even more experience abroad. An external diploma thesis made it possible: Beck moved to Australia for six months, enjoyed the local experience and published three research papers along the way.
"It's certainly not an easy path to take"
After receiving his diploma and doctorate in Göttingen, an intensive period followed at the ETH in Zurich. At the same time, Beck became a father for the first time. "The postdoc is quite a stressful time in a scientific career, especially when it coincides with starting a family. It's certainly not an easy path to take," he says looking back. ETH also has a lighthouse function that attracts top people in all fields.
He himself became a chemist because he was interested in fundamental processes, but also liked to produce new things: "I wanted to develop something of my own, to produce compounds that didn't exist before. I wanted to see how molecules and materials could be built up and understand what new properties they would have. It's a great feeling to be able to create something new." In Aachen, the basic researcher was also involved in a collaboration with the university hospital that tested materials for dialysis to filter toxins from the blood. The researchers applied for a patent, but it will be some time before there is a possible application, Beck says.
What counts for him now is the immediate future: in the summer, his wife, a medical doctor whom he met while playing music together in a big band, and their children, now three, will also move to Hamburg. In the meantime, he will continue to concentrate on getting to know his colleagues in chemistry and at the Bahrenfeld campus and preparing possible collaborations.