A time crystal stabilized by dissipation
20 July 2021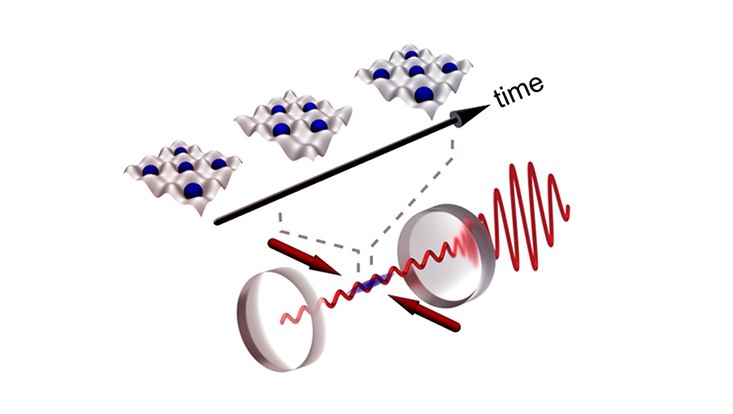 Photo: AG Hemmerich
Illustration of a time crystal stabilized by dissipation. The two red arrows denote laser beams with oscillating intensities, irradiating a Bose-Einstein condensate, placed in an optical cavity. A density pattern arises that oscillates with a subharmonic frequency.
Scientists at Universität Hamburg have for the first time realized a time crystal phase stabilized by controlled dissipation. The researchers used an ultracold atom platform, where a Bose-Einstein condensate is strongly coupled to a high finesse optical cavity. Discrete time translation symmetry of the driven system is shown to be spontaneously broken and a subharmonic response to the driving emerges, as the scientists report in the journal Physical Review Letters.
It is common knowledge that spontaneous breaking of translation symmetry can lead to crystallization in space, when, for example, water converts to ice around the freezing point. According to a proposal by Nobel laureate Franck Wilczek, a related phenomenon could also occur with respect to time, leading to a so called "time crystal". As has been shown by theorists, for thermal equilibrium or in the ground state of a closed system, this is fundamentally forbidden.
In a periodically driven closed system, however, time crystal phases are possible. In this scenario, continuous time translation symmetry is already broken, while discrete time translation symmetry is still in place. The emergence of a time crystal phase then breaks this remaining discrete time translation invariance. The key signature is a robust oscillatory response of the system at an inherent frequency, which is not a higher harmonic of the driving frequency.
First experimental realizations have been reported in 2017. In these experiments, undesired residual coupling to the environment had to be carefully suppressed, since unwanted dissipation and decoherence would destroy the time crystal phase.
In the recent work, published in Physical Review Letters as an editors' suggestion, researchers led by Prof. Andreas Hemmerich from the Institute of Laser Physics and the Cluster of Excellence "CUI: Advanced Imaging of Matter" present the first realization of a time crystal stabilized by tailored dissipation and fluctuations, induced via controlled coupling to a suitable environment.
This constitutes a novel class of time crystals dubbed "dissipative time crystals". Their realization became possible in an ultracold atom platform, where a Bose-Einstein condensate is strongly coupled to a high finesse optical cavity. "An intriguing aspect of this research is that dissipation is practically ubiquitous and hence the possibility of dissipation stabilized time crystals opens a remarkably extended stage where time crystal dynamics can occur," says Hemmerich.
Reference:
H. Keßler, P. Kongkhambut, C. Georges, L. Mathey, J. Cosme , A. Hemmerich
"Observation of a dissipative time crystal"
Phys. Rev. Lett. In press (2021), highlighted as Editors' Suggestion
DOI: 10.1103/PhysRevLett.127.043602
Viewpoint Article:
Z. Gong and M. Ueda
"Time Crystals in Open Systems"
APS Physics 14, 104 (2021)