How bacteria absorb vital iron
14 August 2019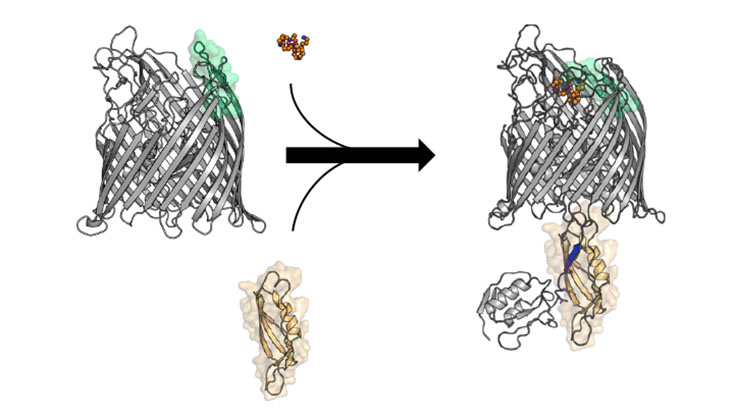 Photo: UHH, Tidow group
The illustration shows the structure and mechanism of the investigated iron transport proteins. In the course of iron import, the transport protein FoxA (grey) binds both TonB (yellow) and its substrate Fe-siderophore (orange).
A research team from the Department of Chemistry at the Universität Hamburg has succeeded in analyzing the structure of a special protein that helps bacteria absorb vital iron. The team led by Prof. Henning Tidow from the Cluster of Excellence "CUI: Advanced Imaging of Matter" reports in the journal eLife on its results, which could play an important role in the development of new antibiotics.
Iron is an essential element for life. Humans need iron to form the red blood pigment, but bacteria also need iron to survive. Many bacteria use dedicated iron-binding molecules – called siderophores – for the uptake of iron. A special transport protein transports the iron compounds through the outer membrane of the bacteria. This TonB-dependent transporter (TBDT) is stimulated by another TonB protein complex in the inner membrane.
However, the detailed mechanism of how the inner-membrane protein TonB connects to the transporters in the outer membrane as well as the interplay between siderophore- and TonB-binding to the transporter is still poorly understood. At this point, the Hamburg researchers relied on structural analysis. "The structure of this transporter in different states could answer important mechanistic questions about the transport mechanism and its regulation," Tidow explains.
For their analysis, the scientists investigated the human pathogen Pseudomonas aeruginosa, a potentially dangerous bacterium for humans, animals and plants. They used X-ray crystallography to determine the three-dimensional structure of the TonB-dependent transporter FoxA on its own as well as in complex with Fe-siderophore and a TonB fragment. They found out that both siderophore and TonB-binding is required to form a translocation-competent state of the FoxA transporter. This means that the transporter is able to pass its substrate through the membrane.
Tidow: "Our results provide a better understanding of an essential iron uptake mechanism required for the survival of pathogenic bacteria. Exploiting this uptake mechanism could be a strategy to new antibiotic development." Text: CUI
Citation:
Inokentijs Josts, Katharina Veith and Henning Tidow
"Ternary structure of the outer membrane transporter FoxA with resolved signaling domain provides insights into TonB-mediated siderophore uptake"
eLife 2019;8:e48528
---