Award ceremony for the Mildred Dresselhaus Prize 2022
11 May 2023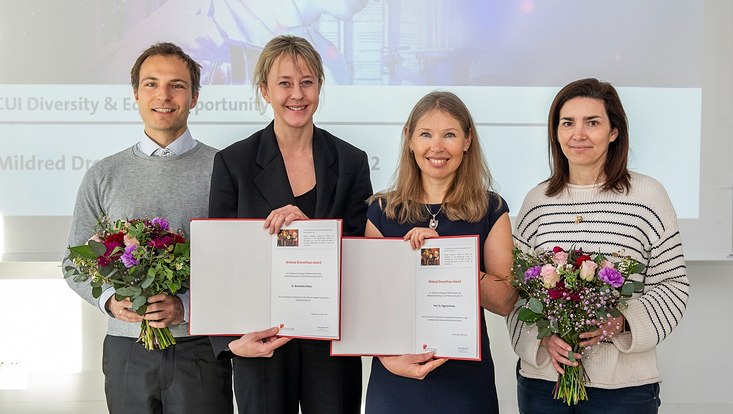 Photo: Bente Stachowske/UHH/CUI
Dr. Thore Posske, Dr. Benedetta Flebus, Prof. Dr. Olga Smirnova and Prof. Dr. Francesca Calegari (left to right).
The Cluster of Excellence "CUI: Advanced Imaging of Matter" awarded Prof. Dr. Olga Smirnova from the Max Born Institute, Berlin, and Dr. Benedetta Flebus, Assistant Professor at Boston College, USA, with the Mildred Dresselhaus Prize 2022 at the HARBOR research building in Bahrenfeld in May.
"Finally, since the outbreak of the pandemic, we can now present the award in person. We are very pleased," said Eileen Schwanold, diversity manager in the cluster "CUI: Advanced Imaging of Matter". "With the award and the future guest residency with us, new, successful collaborations will emerge, existing ones will be deepened, and excellent role models for young natural scientists will join us on campus," Schwanold continued.
CUI professor Francesca Calegari welcomed the two honorees and was also particularly pleased that the Mildred Dresselhaus Guest Professorship Program will have been in existence for 10 years next year and will continue successfully with Prof. Smirnova and Dr. Flebus. In his laudatory speech for Benedetta Flebus, Dr. Thore Posske, Young Investigator group leader at CUI and at Universität Hamburg, underscored the many parallels between Mildred Dresselhaus and Benedetta Flebus, who, for example, both supported aspiring immigrant women physicists at Boston University. "I would have loved to meet Mildred Dresselhaus in person. If I can attain just a small part of her achievements, I will be very happy," Benedetta Flebus said in her speech. The junior awardee also presented her recent ideas on combining quantum magnetism and quantum optics.
Senior awardee Olga Smirnova was praised by Francesca Calegari in her laudatory speech for her scientific commitment and exemplary role as a woman in science. Olga Smirnova began her talk by quoting the poem about Mildred Dresselhaus in the 1948 Hunter College yearbook: "Mildred equals brains plus fun. In math and science, she's second to none," underscoring Mildred Dresselhaus' pioneering role as one of the most influential female scientists of her time and beyond. "I am very grateful for this award and inspired by the scientists here in Hamburg, and look forward to deepening this exchange even further," said Smirnova.
"The Mildred Dresselhaus Program has not only enriched the scientific work in the Cluster of Excellence for almost a decade, it also enables an intensive exchange among international female experts on important topics such as structural change, diversity and the promotion of young researchers. Therefore, we want to use the upcoming anniversary as an opportunity to invite all former visiting professors to Hamburg for a second Mildred Dresselhaus Conference on March 14 and 15, 2024," concluded Eileen Schwanold.