Excellent research attracts visitors from Berlin
31 August 2022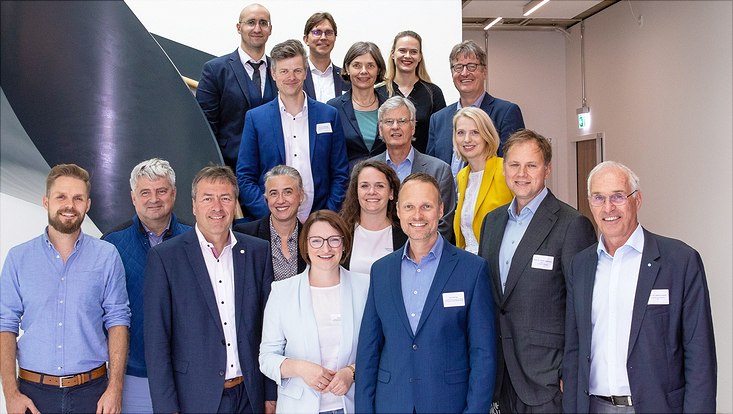 Photo: DESY, Marta Meyer
Berlin visit to the Bahrenfeld research campus: Kai Gehring (below, third from right) with University President Hauke Heekeren (below, second from right) and the Chairman of the DESY Directorate, Prof. Dr. Helmut Dosch (below, far right).
Kai Gehring, chairman of the Bundestag's Committee on Education, Research and Technology Assessment, visited Science City Hamburg Bahrenfeld together with committee members. The group was welcomed by University President Prof. Dr. Hauke Heekeren and the Chairman of the DESY Board of Directors, Prof. Dr. Helmut Dosch. Hamburg's Science Senator Katharina Fegebank and Member of Hamburg's Parliament Sven Tode also attended the appointment.
At the Centre for Structural Systems Biology (CSSB), an interdisciplinary center with partners from various universities and research institutions, Kai Gehring, Laura Kraft and Peter Heidt were able to gain an overview of the development of the site and the research already taking place here. "Four of our five main research areas are anchored here in Bahrenfeld," Prof. Dr. Heekeren explained the importance of the upcoming science district for Universität Hamburg. With the planned move of the chemistry and biology departments to Bahrenfeld, he said, the district will also become more mixed in the future due to the increased number of students.
Two clusters of excellence are already located on campus and presented their concepts. Among others, Prof. Dr. Klaus Sengstock, speaker of the cluster "CUI: Advanced Imaging of Matter" and Irene Fernandez-Cuesta, Young Investigator Group Leader in the CUI cluster, gave an insight into current research results. In the afternoon, the politicians toured DESY's PETRA III, one of the world's brightest storage-ring-based X-ray radiation sources.
Gehring emphasized that in the past he had perceived Hamburg mainly as a port city. But in the meantime, Hamburg has long since become one of the most important science cities in the republic. Research is being carried out here with excellent infrastructure by excellent people in order to solve important questions for the future. "We want to continue to support the further development of this location from the state and federal level as best we can," the politician said at the end of his visit.
The Committee for Education, Research and Technology Assessment advises the Bundestag on long-term decisions in research and education policy, for example concerning the promotion of the research location or technology policy issues. Text: UHH Newsroom, ed.