This page:UHH > CUI: Advanced Imaging of Matter > Cluster of Excellence > News > Hybrid annual meeting gives food for thought
Hybrid annual meeting gives food for thought
11 November 2021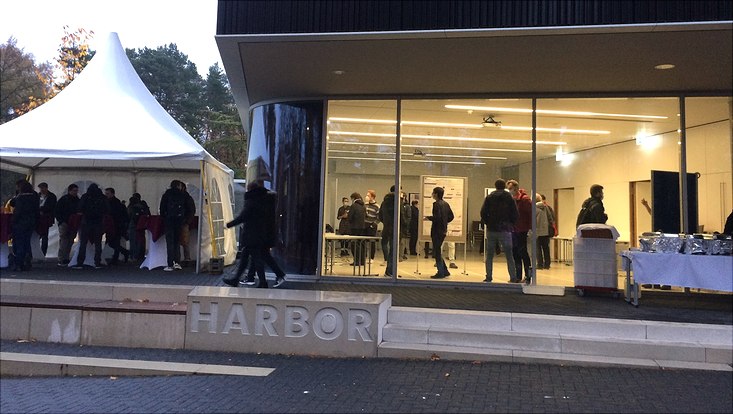 Photo: UHH/CUI
The annual meeting was a combination of virtual lectures and discussions as well as on-site meetings and poster sessions.
Discussing, networking, finding connections between the different research projects and working groups - these are traditionally the main goals of the annual meeting of the Cluster of Excellence "CUI: Advanced Imaging of Matter". As a highlight of several years, the Mildred Dresselhaus Prize has been awarded to two outstanding international female scientists. In addition, this year's focus was also on the topic of unconscious bias.
"We want to make sure that we get the best talent to the cluster," cluster spokesman Prof. Henry Chapman said at the opening of the hybrid annual meeting from 3 to 5 November 2021. More than 35 doctoral and postdoctoral students and three professors have joined the cluster in the past year, and positions are still being or will be advertised. To support the researchers in personnel selection processes, the cluster has now set up special "Hiring Guidelines" to provide concrete guidance throughout the process and counteract the influence of unconscious bias, Chapman explained.
Human beings are biased as decision makers
For the first time, an expert on human decision-making processes was invited to speak at the annual meeting. "Human beings are biased as decision-makers," Matthias Spoerrle, professor of business psychology at Privatniversität Seeburg, set the tone right at the beginning, emphasizing the importance of structures such as diversity management. Although unconscious biases are responsible for only five to seven percent of all decisions, he said, what initially sounds like little can have dramatic effects when extrapolated over a career in which certain people are systematically disadvantaged time and again. For this reason, he said, it is necessary to optimize selection processes and develop further structural measures.
He made an urgent plea, for example, to remove information that can lead to prejudice and underscored this with a simple example: In an experiment, participants perceived the same wine differently depending on whether it was presented to them as cheap or expensive - an evaluation that could even be measured in the brain, he said. "Our decisions are systematically influenced by decision-irrelevant information."
With regard to the application process, the business psychologist recommended focusing not so much on equality, but on equity; looking for suitable candidates first, and then applying diversity criteria to strengthen the potential for innovation. "Spend more time working with your candidates," Spoerrle advised, because "prejudices decrease with the number of contacts."
Mildred Dresselhaus Program creates role models
In the natural sciences, it is women in particular who suffer from structural disadvantages. Role models and making good female scientists visible are considered effective tools for healing the so-called "leaky pipeline," i.e., the disappearance of women on the career path to professorship. This is where the cluster's Mildred Dresselhaus Guest Professorschip Program comes in, honoring two outstanding female scientists each year. This year, the senior award went to Jie Shan, professor of Applied and Engineering Physics and Physics at Cornell University (USA), for her outstanding achievements in the field of experimental condensed matter physics. Prineha Narang, assistant professor of Computational Materials Science at Harvard University (USA), was awarded the junior prize for her outstanding contributions to quantum science. Both accepted the award in a virtual ceremony during the annual meeting and announced research stays at the cluster. In scientific presentations, they offered insights into their research, highlighting a variety of connecting factors and opportunities for collaboration.
Scientists develop project goals for the coming years
Professors Dieter Jaksch and Tim Wehling, who are new to the cluster, also presented their research; Ralf Riedinger's presentation had to be cancelled at short notice.
In addition, PhD students and postdocs presented highlights from CUI research in an online lecture series. For the first time since the beginning of the pandemic, results from the various projects could also be discussed on site. The face-to-face meetings led to in-depth discussions in which project goals for the coming years were also developed.