Classes return to the school lab
14 October 2021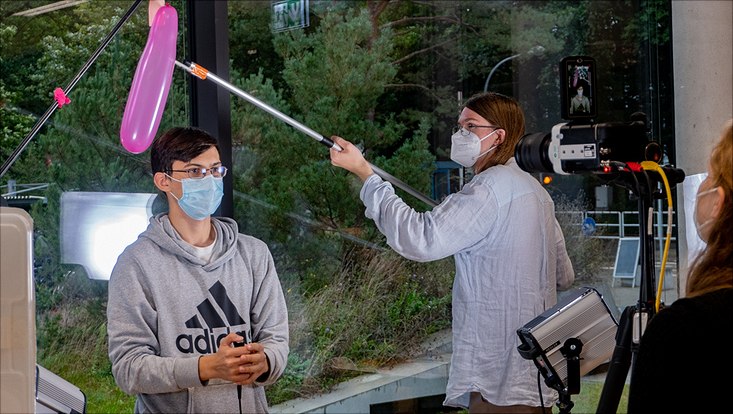 Photo: UHH/Light&Schools/Siegl
Among other things, the students worked with a high-speed camera.
After a long break, the "Light & Schools" school lab has resumed its on-site offering on the Bahrenfeld campus. In the future, the focus will again be on the analog offering with experiments in the lab, combined with digital projects such as the newly developed Escape Game.
Prof. Klaus Sengstock, head of the "Light & Schools" school lab, and coordinators Bastian Besner and Dr. Jonas Siegl awaited the first school classes with great anticipation. After a long phase in which contact with teachers and students was limited to online offerings, two school classes were able to experiment on site at the end of September and the beginning of October.
Inspire enthusiasm for scientific topics
At the end of September, the coordinators and their tutors Mara Brinkmann, Marlon Hoffmann, Anton Lorf and Sophie Otte welcomed a school class from Göttingen. More than 15 students worked with a high-speed camera and examined spectral lamps as well as olive oils with modern USB spectrometers. They learned how spectroscopy works and what makes high-speed imaging possible. "We want to inspire enthusiasm for scientific topics, but also provide insights into the research topics and methods at the Cluster of Excellence "CUI: Advanced Imaging of Matter" and convey 'real research'," says Besner. The program therefore also included a guided tour along Universität Hamburg's research buildings on the Bahrenfeld campus.
"We supplemented this tour with our new Escape Game that you can also easily play online on your own or as a school class from home or school," Besner explains. The game currently consists of two so-called challenges. In the first part, participants must solve a puzzle to be invited to a job interview with a fictitious scientist. Challenge two involves exploring the campus, combined with physics puzzles and complementary experiments.
The same program was completed in early October by 16 female students from Hesse, who were supervised by tutors Viktor Eßbach, Felix Teutloff and Jan Wiesenmüller together with the coordinators. The entire team agrees: "We are very happy to be able to work on site again."