This page:UHH > CUI: Advanced Imaging of Matter > Cluster of Excellence > News > Molecules & Schools at mint:pink - experiment with soap bubbles shows the diversity of chemistry
Molecules & Schools at mint:pink - experiment with soap bubbles shows the diversity of chemistry
9 June 2021, by Ingeborg Adler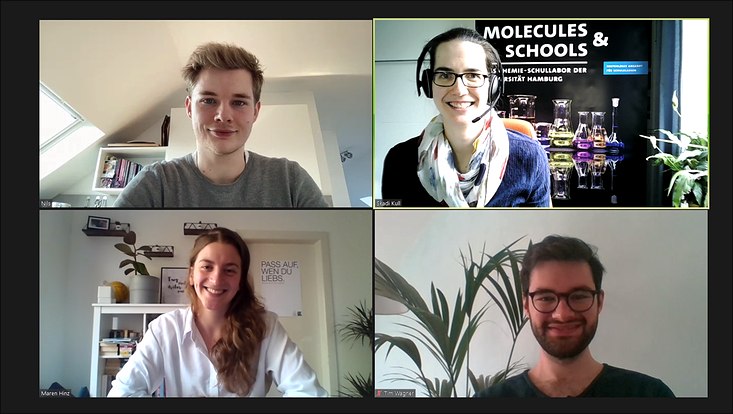 Photo: Molecules & Schools
Dr. Skadi Kull (top right) coordinates the school lab and is supported by Nils Dageförde (top left), Maren Hinz und Tim Wagner.
Even with very simple means, it is possible to show impressively what chemistry can do. For the mint:pink program day "Chemistry and Biochemistry," the chemistry school lab "Molecules & Schools" had prepared the experiment "Soap bubbles under water". The underlying principle is used, for example, in the development of drugs and vaccines.
A glass of water, a straw, washing-up liquid, and possibly some food coloring - that's all it takes to conduct the experiment at home. "Normally, school classes come to our lab, but since that is not possible at the moment, we have prepared an experiment for the program day that we can also conduct together online," Dr. Skadi Kull explained to the students and their teachers who had joined the online program day. Skadi Kull coordinates the "Molecules & Schools" school lab, which is funded by the Cluster of Excellence "CUI: Advanced Imaging of Matter" and takes up its research topics in its offerings. As in real research, the bubble experiment often does not work at first, the chemist explained. But when it does work, she said, it's very motivating.
200 female students are taking part this year
This is exactly what the Initiative Nat has set out to do with mint:pink. The program provides insights into research at companies and universities. It shows where science, technology, engineering and mathematics (STEM) are applied in practice and answers questions about meaning, fun and self-determination. The goal is to attract girls in particular to STEM subjects and ensure that they keep the option of a future in these fields open for as long as possible. This year, 200 female students are participating in the mint:pink program.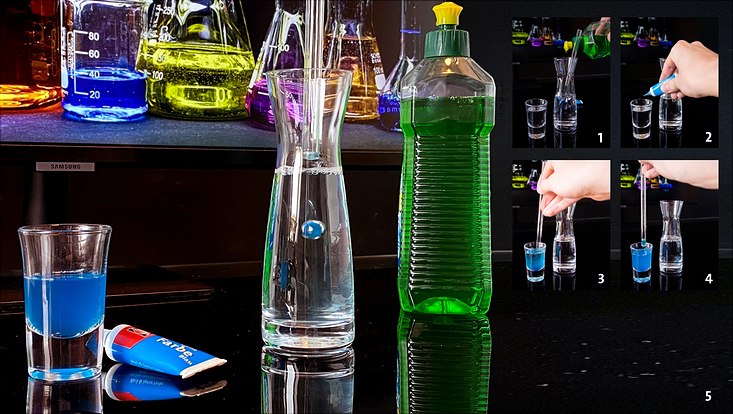 At the program day, tutor Nils Dageförde presented the experiment, dipped the straw in soap solution, covered it with a finger, pulled it just above the surface and released the finger. If the experiment succeeds, a bubble now appears in the solution. The reason is that the surfactants contained in the soap solution with their water-repellent and water-loving components organize themselves around the water core in such a way that a protective layer of air is formed. The water is encapsulated and can be transported. "This principle can be used to store active ingredients. That's similar to how nasal spray works, but also how certain vaccines work," Dageförde explains. "The question is, what else could be encapsulated? It's a simple model, for many questions."
Research and the ways to get there
This day, however, was not only about the concrete research, but also about the ways to get there and the motivation of the researchers. Nils Dageförde, for example, is studying nanoscience after astrophysics turned out not to be so interesting for him. He is fascinated by the interaction of chemistry and physics. Fellow tutor Tim Wagner was already involved with future technologies at school and wrote his bachelor's thesis on cancer cells at the UKE. Maren Hinz, on the other hand, is studying molecular life science, a very practical subject, and is writing her bachelor's thesis on antibiotic resistance in bacteria. The tutor recommended that students should simply try out a field if they are interested in it and enjoy the natural sciences. If necessary, they can change their mind later.
Coordinator Skadi Kull took up this advice and pleaded for openness to different disciplines. She herself had always been interested in chemistry, but in her professional career had already worked with many different teams of physicists and ecotrophologists, for example.