This page:UHH > CUI: Advanced Imaging of Matter > Cluster of Excellence > News > "Picture a Scientist" – A film evening at Women's Career Day
"Picture a Scientist" – A film evening at Women's Career Day
22 April 2021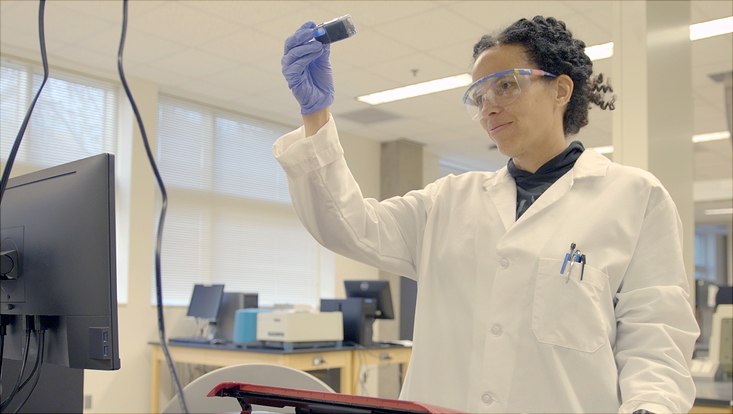 Photo: kinofreund
The chemist Raychelle Burks is one of the protagonists.
Who actually does science? Why is it that many automatically still think about a male scientist? In the documentary "Picture a Scientist" a biologist, a chemist and a geologist take you on a journey through the experiences of their academic career. The exclusive online screening on Wednesday, 28 April 2021, at 7 pm is part of the Women's Career Day 2021.
The documentary gives a hopeful outlook as it tells a story of solidarity and activism. It is a story about brave female leaders in science who stand up against injustice and manage to spark a global discourse on advancing equality in science. It is intended as an inspirational complement to the Women's Career Day 2021 workshops, the goal of which is to provide young women scientists with knowledge in various areas of career management while raising awareness for gender equality issues that a career in science may entail.
Tickets are limited
The film screening is open to all, but tickets are limited. Dr. Caterina Vozzi of the Institute of Photonics and Nanotechnology in Milan, Italy, and Mildred Dresselhaus Guest Professor of the Cluster of Excellence "CUI: Advanced Imaging of Matter" will speak at the introduction. The film is in English with German subtitles.
Workshops on presentation techniques and on resilience and well-being in academia are reserved for female doctoral students and postdoctoral fellows from participating institutions.
The Women's Career Day is a joint offer of the MIN Faculty, SFB 925, the Clusters of Excellence "CUI: Advanced Imaging of Matter" and "Quantum Universe", EMBL, MPI/IMPRS-UFAST and PIER.