This page:UHH > CUI: Advanced Imaging of Matter > Cluster of Excellence > News > Call accepted
23 March 2021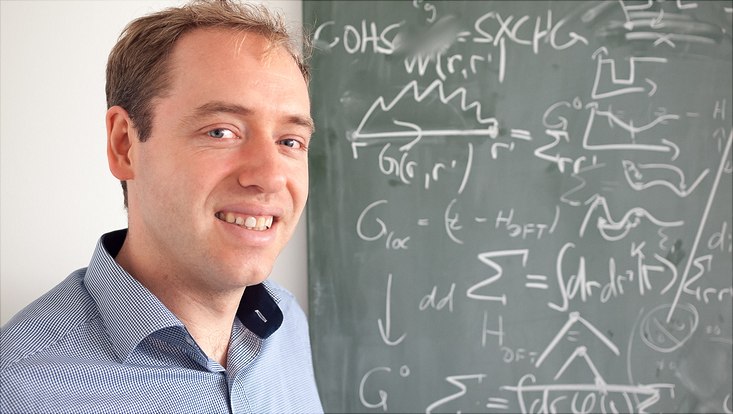 Photo: private
Prof. Dr. Tim Wehling has accepted the call to the W3 professorship "Computational Theory of Condensed Matter" at the Cluster of Excellence "CUI: Advanced Imaging of Matter" and in the Department of Physics. The theoretical physicist previously conducted research at the interdisciplinary Bremen Center for Computational Materials Science at the University of Bremen and will move to Universität Hamburg on 1 October 2021.
Tim Wehling's research is situated in the field of electronic structure of condensed matter with a special focus on nanostructures, low-dimensional materials, electronic interaction phenomena, and multiscale modeling. In close collaboration with experimentalists, he develops new theoretical methods and is considered an internationally recognized expert in combining quantum many-body methods with realistic band structure calculations.
Tim Wehling studied physics at Universität Hamburg and received his PhD in 2010 with a thesis on impurities and inhomogeneities in nanoelectronic systems in the group of Prof. Alexander Lichtenstein. He then continued his research as a postdoc in Hamburg and moved to the University of Bremen as a junior professor in 2012. Since 2016, he has been conducting research there as a W3 professor in theoretical physics, and since 2017 he has been vice-speaker of the DFG-funded Research Training Group (RTG) "Quantum Mechanical Materials Modelling".
Tim Wehling has established an excellent reputation in the fields of graphene and related low-dimensional and correlated electronic systems through numerous international publications. His 2008 work on graphene has more than 1000 citations.
The long-term goal of his research is to establish theoretical methods for simulating the structural and electronic properties of realistic materials that adequately account for atomistic details and interactions. In this way, he aims to lay the foundation for the computational design of materials and the control of quantum mechanical processes governed by electronic interactions and structural properties at the atomic scale.