Individual support for outstanding young researchers
25 September 2020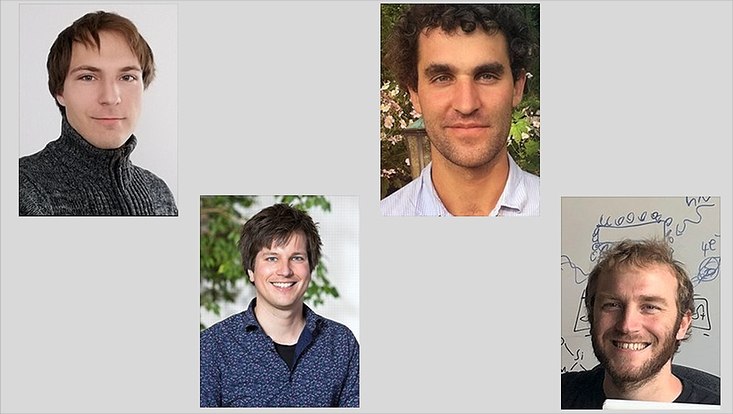 Photo: CUI, v.l. private; UHH, RRZ/MCC, Mentz; Cleo Moison; private
Dr. Thore Posske (from the left), Dr. Philipp Wessels-Starmann, Dr. Guillaume Salomon, Dr. Eric Hill.
Four Young Investigator Group Leaders have started their research at the Cluster of Excellence "CUI: Advanced Imaging of Matter" in the past weeks. The positions have been newly introduced as part of the cluster's promotion of young researchers and are aimed at highly talented young scientists with the ability to independently conduct their own challenging research projects and to acquire or have already acquired their own funding at the level of Emmy Noether Groups or ERC Starting Grants.
In future, a total of seven researchers will work as Young Investigator Group Leaders in the cluster. To support their scientific careers, the cluster is setting up a structured development program, which aims to identify the potential of the young researchers and to promote them individually. All Young Investigators are accompanied by a so-called host.
Dr. Thore Posske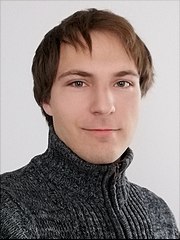 Dr. Thore Posske took up his position as the first Young Investigator Group Leader of the Cluster on 1.7.2020. In 2015, the physicist was awarded his doctorate in theoretical physics at the Julius-Maximilians-Universität of Würzburg and then moved to Universität Hamburg as a post-doctoral researcher. Here he conducts research at the I. Institute for Theoretical Physics in the Nonequilibrium Quantum Dynamics Group of Prof. Michael Thorwart, who is his host.
Dr. Posske has already been able to obtain a position ("Eigene Stelle") from the German Research Foundation (DFG). The funding program gives young scientists the opportunity to conduct research without being subject to directives and to devote themselves exclusively to the scientific project they have applied for. Dr. Posske will conduct research on the topic "Quantum-crossover of classical topological protection" and will be funded for three years. He is particularly interested in topologically robust phenomena in spin chains, anyons, and Majorana fermions with a possible application to quantum computing.
Dr. Guillaume Salomon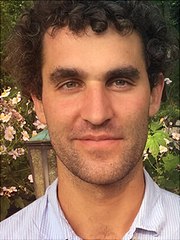 Dr. Guillaume Salomon followed on 1.8.2020. Dr. Salomon received his doctorate at the Institut d'Optique of the University of Paris Saclay, France, and subsequently did postdoctoral research at the Max Planck Institute for Quantum Optics in Munich. He is an expert in the investigation of strongly correlated fermionic quantum systems by means of quantum gas microscopy, a breakthrough technique he developed in Munich.
With the help of an ERC Starting Grant, which he obtained in September 2019, Guillaume Salomon will start a new research group to study topological states of matter which are of interest for quantum computing.
The ERC Starting Grant project "FLATBANDS, Exploring strong correlations in flat bands" under the European Union's Horizon 2020 research and innovation programme (grant agreement No 852236) in the amount of 1.5 million Euro,  started on 1.9.2020 and runs until August 2025. As Young Investigator Group Leader, Dr. Salomon will be collaborating with Prof. Henning Moritz from the Institute of Laser Physics.
Dr. Eric Hill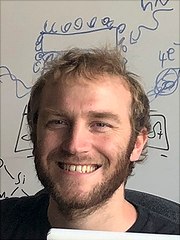 On 1.8.2020 Dr. Eric Hill started as Young Investigator Group Leader in the cluster. Dr. Hill studied chemistry at Southern Oregon University and received his doctorate in Nanoscience at the University of New Mexico, followed by a Juan de la Cierva Postdoc in the Liz-Marzán group at CIC-biomaGUNE in San Sebastian, Spain, and a brief Postdoc at UT Austin. Most recently, he established his own research group at the Technical University of Hamburg (TUHH) with funding from the German Federal Ministry of Education and Research. A jury of the German Academic Exchange Service (DAAD) had selected him as one of 13 internationally renowned researchers as project leader in Germany for the German-French program "Make Our Planet Great Again". The program is scheduled to run for a total of five years and aims to strengthen research on climate change. Dr. Hill has also recently received an individual grant from the DFG to study the hierarchical ordering of anisotropic nanomaterials at the interface of bubbles formed by laser-directed plasmonic heating.
This research group is now continuing its work at the Universität Hamburg. Dr. Hill's area of expertise is colloidal synthesis and self-assembly toward applications in renewable energy. His aim is to understand how to control the nanostructure of materials to carry out photocatalysis more efficiently than is currently the case. These nanomaterials will be studied by a variety of ultrafast techniques, in order to understand the processes which enable their enhanced efficiency at the atomic level. Hill's group will conduct research at the Institute of Physical Chemistry; his hosts are Prof. Alf Mews from the Institute of Physical Chemistry and Prof. Michael Fröba from the Institute of Inorganic and Applied Chemistry.
Dr. Philipp Wessels-Staarmann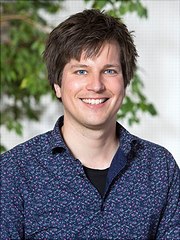 Dr. Philipp Wessels-Staarmann started on 1.9.2020 as fourth Young Investigator Group Leader. The physicist studied at Universität Hamburg, received his doctorate in 2014 and has since been doing postdoctoral research at the Center for Optical Quantum Technologies (ZOQ) and in the Clusters of Excellence "The Hamburg Centre for Ultrafast Imaging" (CUI) and "CUI: Advanced Imaging of Matter".
Dr. Wessels-Staarmann is specialized in visualizing fast evolving processes in the micro- and nanoworld using ultrashort light pulses. He observed transport phenomena in magnetic nanostructures, which can help to find solutions for the increasing heat load in electronic circuitry. In a worldwide unique research project, he now combines this expertise with ultracold quantum systems. The dynamics of macroscopic quantum objects on extreme timescales is barely investigated so far and promises exciting fundamental discoveries and novel applications. Dr. Wessels-Staarmann was awarded the Deutsche Studienpreis of the Körber Foundation and invited to the Lindau Nobel Laureate Meeting. The Young Investigator Group Leader is accompanied by Prof. Dr. Klaus Sengstock and Prof. Dr. Markus Drescher.
As soon as all procedures are completed, we will also introduce the three other Young Investigator Group Leaders.
---