Mildred Dresselhaus Prize 2020 for extraordinary scientists announced
1 September 2020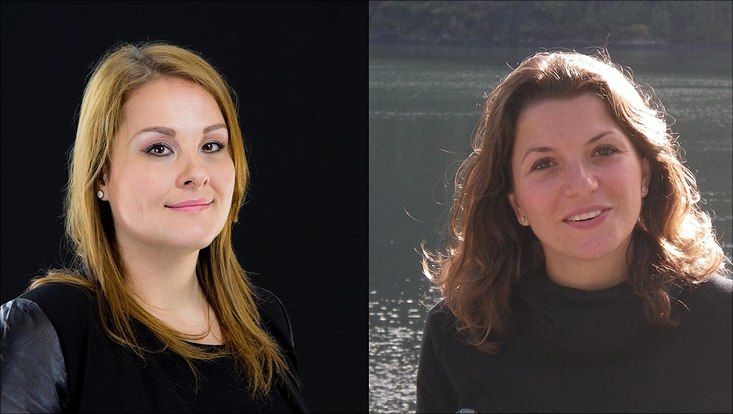 Photo: Privat
Dr. Caterina Vozzi (right) and Dr. Giulia Mancini are awarded the Mildred Dresselhaus Prize 2020.
Dr. Caterina Vozzi, Director at the Institute for Photonics and Nanotechnology (CNR-IFN) in Milan, Italy, and Dr. Giulia Fulvia Mancini, Tenure-Track Assistant Professor at the Zernike Institute for Advanced Materials at the University of Groningen, Netherlands, are awarded the Mildred Dresselhaus Guest Professorship Program 2020 of the Hamburg Centre for Ultrafast Imaging (CUI). The Guest Professorship Program includes a longer research stay at the Cluster of Excellence "CUI: Advanced Imaging of Matter" as well as prize money of 20,000 Euros for the Senior Prize and 10,000 Euros for the Junior Prize.
The Senior Prize goes to Dr. Caterina Vozzi, expert in attosecond physics and the generation of high harmonics. She was one of the first scientists demonstrating the possibility of generating isolated attosecond pulses in the extreme ultraviolet spectral region, opening the way to a new research field. "I congratulate Dr. Vozzi very much and I am looking forward to the collaboration," says Dr. Francesca Calegari, Professor at Universität Hamburg, senior scientist at DESY and responsible for the area of "Gender and Diversity" in the Cluster's Board of Directors. "Having Dr. Vozzi here in Hamburg will allow beyond state-of-the-art technology to be developed together with my group, pushing for the realization of an advanced attosecond source operating in the soft-x range." In addition, the prizewinner is already well connected with leading scientists of the cluster, such as Prof. Franz Kärtner, Prof. Jochen Küpper and Prof. Nina Rohringer, Professors at Universität Hamburg and Lead scientists at DESY, and Prof. Angel Rubio, Director at the Max Planck Institute for Structure and Dynamics of Matter.
Exciting opportunity for a research stay in Hamburg
Dr. Vozzi: "I'm very happy and honored to accept this award. It is an exciting opportunity for me to spend a research stay in Hamburg and to strengthen active collaborations and establish new ones with the outstanding researchers at CUI in the field of ultrafast spectroscopy."
During her doctoral studies at the École Polytechnique Fédérale de Lausanne (EPFL), Swiss, junior award winner Dr. Giulia Mancini designed and implemented a cutting-edge experimental set-up for ultrafast electron diffraction and small-angle  scattering, which is to date a worldwide reference for the implementation of new similar set-ups or the upgrade of pre-existing ones. As newly appointed tenure-track assistant professor at the University of Groningen, Dr. Mancini's research group studies energy transport in functional nanomaterials and interfaces in the ultrafast domain, through novel experimental approaches based on combined imaging and scattering techniques, which integrate tabletop and facility X-rays with electrons sources. Prof. Markus Drescher, with whom Prof. Mancini will conduct joint research in the Cluster of Excellence, is looking forward to the cooperation: "Electron and X-ray beams are complementary methods for studying the structure and dynamics of matter. I am looking forward to working with a scientist who has already made important contributions in both fields".
Starting new collaborations, making new role models
Dr. Mancini: "It is a great honor for me to accept the Mildred Dresselhaus Guest Junior Professorship and I want to thank you all for the support. I look very much forward to starting new collaborations and performing research in Hamburg."
The Mildred Dresselhaus Guestprofessorship Program offers internationally outstanding women scientists excellent research conditions in Hamburg. It creates new opportunities for cooperation and offers the chance to deepen existing contacts. At the same time, the exchange makes new role models for young women in the natural sciences visible. The program has developed very successfully since its inception in 2013 and is part of the German Research Foundation's Toolbox.
The award will be presented online on Friday, 2 October 2020, in a festive ceremony during the annual meeting of the Cluster of Excellence.
---