This page:UHH > CUI: Advanced Imaging of Matter > Cluster of Excellence > News > Light and Schools online course
Programming with the turtle - school laboratory offers online courses
29 July 2020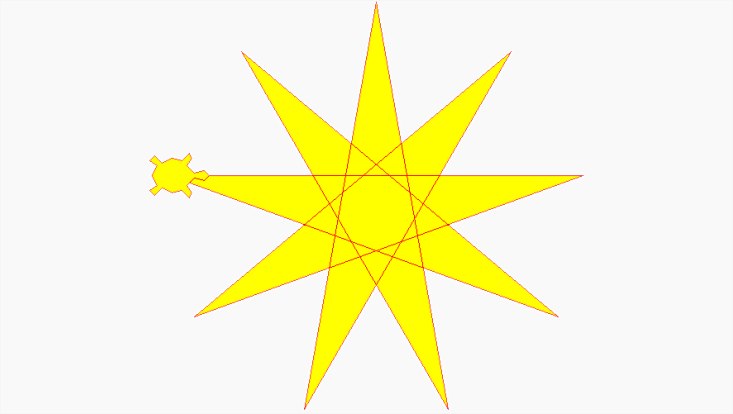 Photo: UHH/Light & Schools, Jan Philip Deppe
The team from Light & Schools, the physics school laboratory of Universität Hamburg and the Cluster of Excellence "CUI: Advanced Imaging of Matter", is now increasingly online for its guests. The first offer is aimed at children in grades 5 to 6 who want to gain experience in programming and learn about the work of a scientist.
Programming a turtle to draw squares, stars and much more? Programming languages like Python make it possible. You can give the turtle different colors, for example to paint colored shapes like the yellow star.
The beginners Python course takes place via a video conference platform and is accompanied by the tutors of the school laboratory. It is structured in such a way that the children can participate on their own and no further adults are required to accompany them. The course will be in German. It is free of charge and will also be available during the autumn holidays. Registration is required.
Cover letter for children (PDF in German)
Details: 
Target group: Children from 10 until 13 years 
Topic: Writing a code to draw geometric objects
Time: Around 90 minutes
Costs: free
Programming language: Python
Dates and Registration:
Mon., 17.08.20, 14:00 - 16:00
Tue., 20.08.20, 14:00 - 16:00
Mon.., 31.08.20, 16:00 - 18:00
Thu., 03.09.20, 14:00 - 16:00
Tue., 15.09.20, 16:00 - 18:00
Thu., 17.09.20, 16:00 - 18:00
Mon., 21.09.20, 16:00 - 18:00
Tue., 22.09.20, 16:00 - 18:00
Thu., 08.10.20, 14:00 - 16:00
Fri., 09.10.20, 10:00 - 12:00
https://www.min.uni-hamburg.de/light&schools