Max von Laue Prize for Prof. Tobias Beck
4 March 2020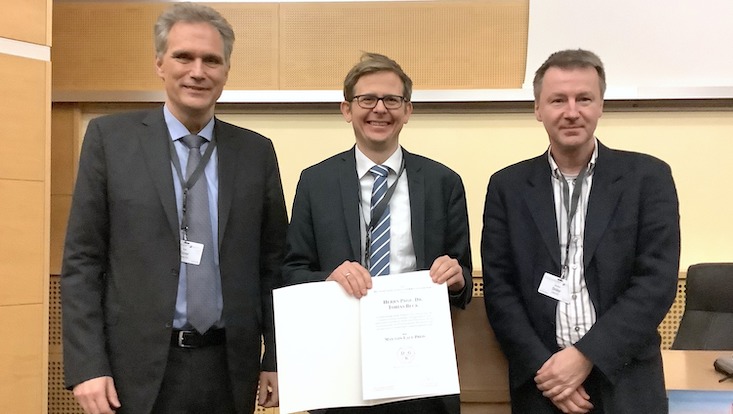 Photo: Michael Rütten
Tobias Beck (center) was honored for the development of novel crystalline materials. Left: DGK President Prof. Ralf Ficner, right: laudator Prof. Norbert Sträter.
Prof. Dr. Tobias Beck has been awarded the Max von Laue Prize 2020 of the German Society for Crystallography (DGK). Beck received the prize at the annual conference of the society, which this year was held together with the Polish Crystallographic Association (PCA) as a Polish-German conference in Wroclaw, Poland. The Max von Laue Prize honors outstanding work by young scientists in the field of crystallography in the broadest sense.
"I am very honored to have received this special award for the work of my research group on the development and characterization of novel and especially crystalline biohybrid materials," said Beck. The expert for protein-based nanomaterials has been conducting research at the Department of Chemistry at Universität Hamburg and in the cluster of excellence "CUI: Advanced Imaging of Matter" since October 1, 2019. Prior to this, he was the head of an independent research group at RWTH Aachen University for five years. He combines nanoparticle synthesis with protein design, biotechnology and material characterization.
The Max von Laue Prize, which has been awarded annually since 1996, comes with prize money of €1,500. Max von Laue (1879 to 1960) was a German physicist and Nobel Prize winner who discovered the diffraction of X-rays on crystals. In 1914, he received the Nobel Prize in Physics for his research which made it possible to prove the lattice structure of crystals and the wave character of X-rays. Text: CUI
---