CUI Young Researchers Workshop 2020
21 November 2019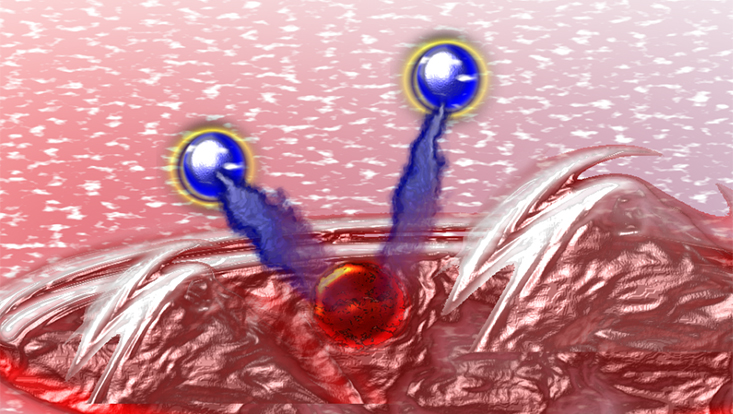 Photo: Kevin Keiler
Bringing together PhDs and Postdocs, bridging scientific gaps, providing great opportunities for exchanging ideas – these are the main goals of the Young Researchers Workshop on "Frontiers in nonequilibrium dynamics of multicomponent systems in the few- to many-body crossover" organized by a team of four young researchers from the Institute of Laser Physics at Universität Hamburg.
The workshop will take place from 10-12 February 2020 at the Center for Optical Quantum Technologies on the Bahrenfeld Campus. "Our aim is to bring together early career investigators to share their recent scientific findings and thereby provide an inspiring framework for bridging the gaps from few- to many-body nonequilibrium quantum multicomponent systems," Kevin Keiler explains. The physicist from the theory group of Prof. Peter Schmelcher organizes the workshop together with Simos Mistakidis, Giorgis Koutentakis and Maxim Pyzh.
The topics will range from many-body nonequilibrium dynamics in Bose-Einstein condensates and Fermi seas including mixtures thereof to pure few-body quantum systems. Special emphasis will be given to highly particle imbalanced atomic mixtures which play an important role in the context of impurity physics and serve as a key to the understanding of transport properties, optical response and induced correlations in a plethora of materials. The organizers could already win a group of high-ranking lecturers:
L. A. P. Ardila (Hannover)
Q. Bouton (Kaiserslautern)
M. Á. García March (Barcelona)
P. Giannakeas (Dresden)
F. Grusdt (Munich)
B. Huang (Innsbruck)
G. M. Koutentakis (Hamburg)
M. Prüfer (Heidelberg)
M. G. Skou (Aarhus)
A. G. Volosniev (Vienna)
C. Weitenberg (Hamburg)
G. Zürn (Heidelberg)
"We are planning much space for discussions, so that there will be an open atmosphere that provides a great opportunity for everybody to have a strong exchange of ideas in order to interlink their works and experimental or theoretical methods," Keiler says.
PhD students and postdoctoral researchers are invited to apply and to contribute to the poster session. The workshop language will be English; the total number of participants is limited.
For more information please view the workshop homepage
---