This has something to do with pressure!
12 August 2019
1 von 4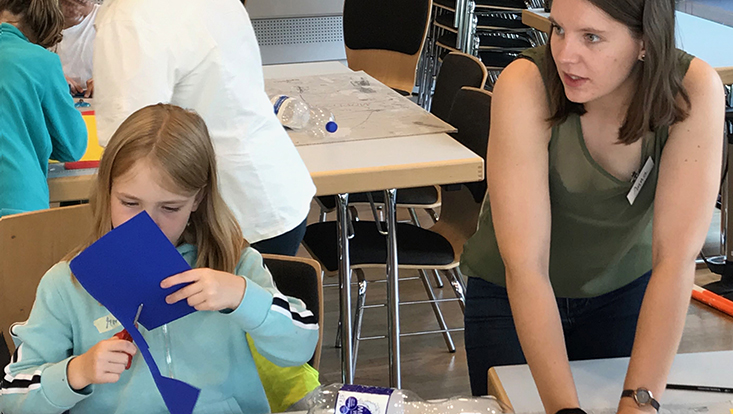 Photo: UHH/CUI, Schonefeld
Anna Albrecht from the school lab Light & Schools with a student making a rocket.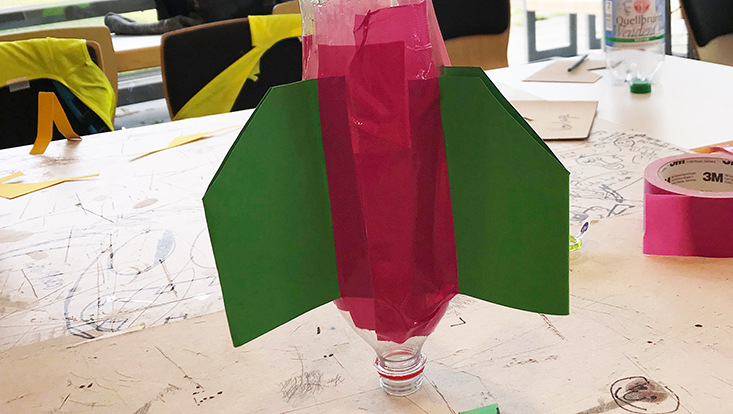 Photo: UHH/CUI, Schonefeld
During the holiday course, the primary school pupils built rockets out of bottles and let their creativity run free.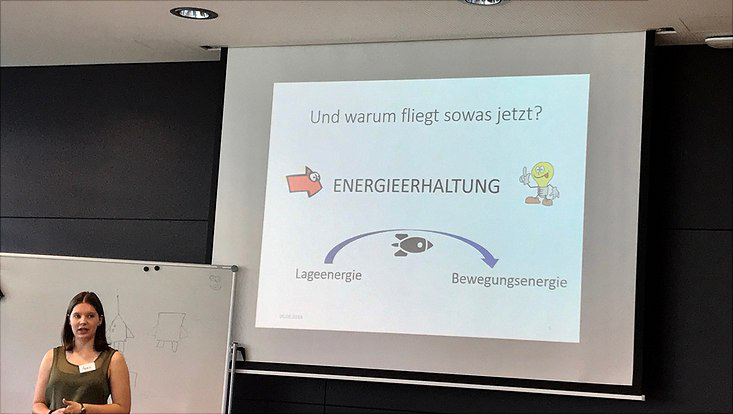 Photo: UHH/CUI, Schonefeld
Anna Albrecht explains the physical principles that make rockets fly.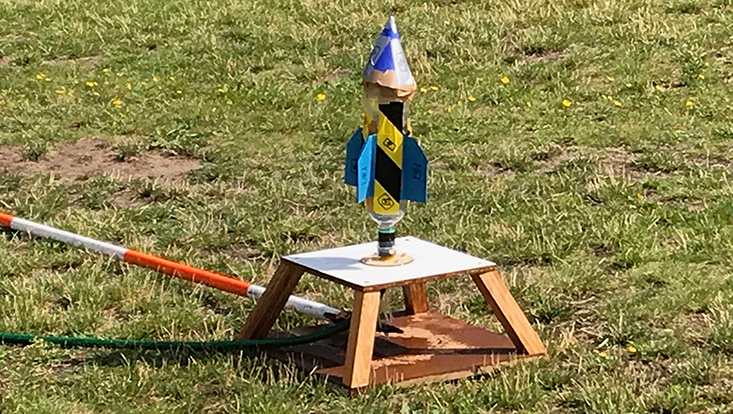 Photo: UHH/CUI, Schonefeld
Later the boys and girls tested their self-constructed rockets with the help of a launchpad.
The "Light & Schools" school laboratory's holiday course on research introduced children of primary school age to physical topics in a playful way. For the team of coordinators, this means looking at basic physics from a different perspective and questioning the familiar.
"Why is a rocket flying?" asked Anna Albrecht from the Light & Schools school laboratory the 18 pupils of the Windmühlenweg primary school. The boys and girls of the 3rd and 4th grade attended a holiday course in the school laboratory and showed their enthusiasm in many creative answers.
"The children have often heard a lot about rockets or NASA. Especially then we can strengthen this knowledge by building a rocket and awaken the children's interest in physics. Before that, many children unfortunately only associate physics with one school subject and no exciting rocket launches," said Anna Albrecht. In the holiday course, the boys and girls were able to try out for themselves how the necessary positional energy could be reversed to the kinetic energy and thus ultimately make rocket flight possible.
"In my spare time I also like to experiment and pour different drinks together and see if something happens," said one pupil. With the ready-made rockets, the children moved into the courtyard, pumped air into the rockets and let them rise from the launch pad to the sky. In the end, they agreed that handicrafts and flying were the most fun.
"The work with pupils from primary school brings a completely different meaning to our work as basic physicists and challenges us to question even supposedly trivial things again and again and to look at them from new perspectives," concluded Dr. Jonas Siegl, who coordinates the school laboratory together with Bastian Besner.
---