Mildred Dresselhaus Prize Recipients 2019
23 May 2019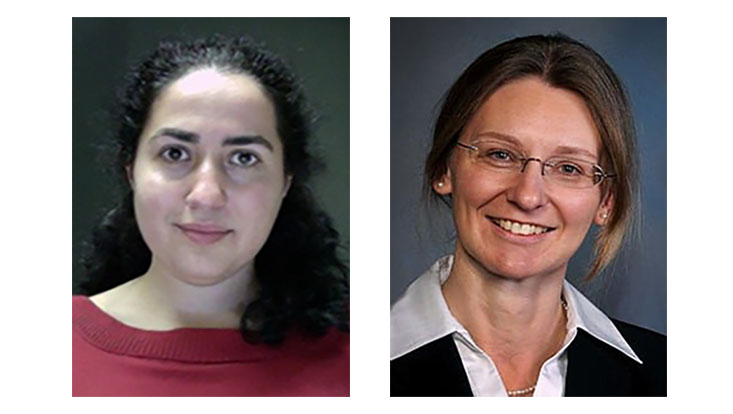 Photo: Private
Prof. Dr. Alicia Palacios (left) and Prof. Dr. Ruth Signorell
Prof. Dr. Ruth Signorell, ETH Zurich, Switzerland, and Prof. Dr. Alicia Palacios, Universidad Autónoma de Madrid, Spain, will be awarded the 2019 Mildred Dresselhaus Guest Professorships at the Hamburg Centre for Ultrafast Imaging (CUI). The Guest Professorship includes longer research stays at the cluster of excellence "CUI: Advanced Imaging of Matter" and a prize money of € 20.000 for the senior award and € 10.000 for the junior award.
Prof. Signorell is an internationally recognized expert in physical chemistry with special interest in spectroscopy at the nanoscale and properties of molecular clusters and aerosol particles. She will receive the senior award for advancing the fundamental understanding of physical and chemical properties of aerosols and nanoparticles ubiquitous in our world.
"It is a great honor for me to accept the award. This is wonderful news. I am very much looking forward to research stays and collaborations in Hamburg," Signorell says. She will be working with Jochen Küpper and Francesca Calegari, who are both professor at Universität Hamburg and leading scientist at DESY, and further groups close to her research.
The junior award goes to Prof. Palacios, who is an expert in theoretical and computational chemistry. Palacios will receive the award for her outstanding contributions to theoretical chemistry by ab initio methods to describe ultrafast electronic processes in small molecular systems on attosecond timescales.
 "Of course, I am pleased to accept the award and want to sincerely thank you all for your support," Palacios told the selection committee. She will be working with Nina Rohringer, who is a professor at Universität Hamburg and leading scientist at DESY, and further research groups.
"We are very much looking forward to meet Prof. Signorell and Prof. Palacios here in Hamburg, discuss science and hear more about different career paths", Prof. Francesca Calegari says. Calegari is a member of the cluster's board and responsible for "Gender and Diversity". The Mildred Dresselhaus Guest Professorship Program's objectives are to provide excellent research conditions for international outstanding female researchers, start new and intensify existing collaborations, and provide role models for young women in the physical sciences. The program was started in 2013 within the previous cluster of excellence.
The Mildred Dresselhaus Guest Professorship Program
---