Dr. Thomas J. Lane: Following the brightest X-rays
26 April 2021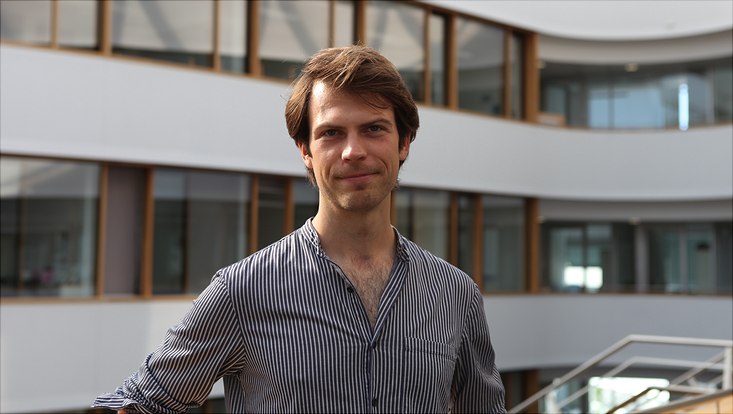 Photo: privat
Since the middle of last year, Dr. Thomas J. Lane has led the Photobiology group at DESY and joined the Cluster of Excellence "CUI: Advanced Imaging of Matter" as a Young Investigator.
"I've always been fascinated by how proteins can self-assemble and function," says Lane, whose scientific career began with a chemistry BA at Pomona College in California, USA. The National Science Foundation fellow specialized in molecular dynamics simulation and earned his PhD from Stanford University in 2015. He was particularly interested in the question of the physical conditions required for systems to self-assemble. Says Lane, " The complex models we built could not be falsified by current experiments, which is why I started paying attention to the work going on at SLAC just up the hill from Stanford". Time-resolved crystallography was just experiencing a renaissance, so Lane moved to SLAC and spent the next five years doing research at the LCLS. There he specialized in working with XFELs and imaging enzyme reactions, developing new chemical technologies to use even more proteins for photoexcitation, and further method development in protein imaging. Later, he conducted research as part of the Machine Learning Initiative with the goal of advancing structural biology using machine learning.
After five years, he moved on to Hamburg. "Following the brightest X-rays around, in 2020 I moved to DESY to work with the fantastic group of folks at CFEL and be right next to the European XFEL," Lane says. Here he leads the Helmholtz Young Investigators Group "Role of Enzyme Dynamics in Catalysis Revealed by Time Resolved Crystallography." CUI researcher Prof. Arwen Pearson from the University of Hamburg is his cooperation partner.
Dr. Lane, you studied chemistry in California. How did this choice come about?
I had the good luck of having an inspiring chemistry teach in my first year at Pomona, Mal Johal. Mal really believed in his students, and if you were his student somehow that belief rubbed off a bit on you, it was infectious. Mal gave me a chance to work in his lab along with another first-year, Rebecca Hamlin, and just encouraged us to just start working. We didn't know we could fail or how big the challenges would be, so we did. We didn't have any fear or expectations – and the excitement of being in a lab carried us forward. In Mal's lab, I started a few simple experiments on the self-assembly of layer-by-layer polymer films and the first steps of my career were laid.
Who has had a particular influence on you? Do you have any role models?
I've already mentioned Mal. At Stanford, my advisor Vijay Pande and the group he led at that time were really special. A truly collaborative, fun, and smart set of people. At Stanford, though, I think Buzz Baldwin had a large influence on me, even though we interacted infrequently. Buzz demonstrated the power of careful thought, scholarship, and that age is a matter of attitude, not years since birth. I always hoped the work I did would interest Buzz, and didn't much care if no one else read some of the more esoteric papers I wrote.
What is special about your research? What fascinates you?
I am still obsessed with protein motion – the ability for these molecules to self-assemble and then channel energy, signals, and do chemistry spontaneously is amazing. I'm focused on this little area of science, which of course makes it special to me, but it's just a matter of taste: lots of work is interesting.
What makes a good scientist for you?
Science is hard because it demands opposites in the same person: attention to detail and the ability to see the big picture; intelligence but the willingness to do hours of boring, repetitive work; the ability to believe things will work out and take risks paired with a sharp critical eye. No one has all of these things. I think the best – or maybe just the luckiest -- scientists are the ones who find colleagues who can balance out their weaknesses.
What are your goals for the next two years?
I'm aiming to be part of a fun, productive and supportive team by then! I feel responsibility on my shoulders to make that happen, but it's a challenge I'm looking forward to.