Arts & Science at XFEL and CFEL
5 September 2023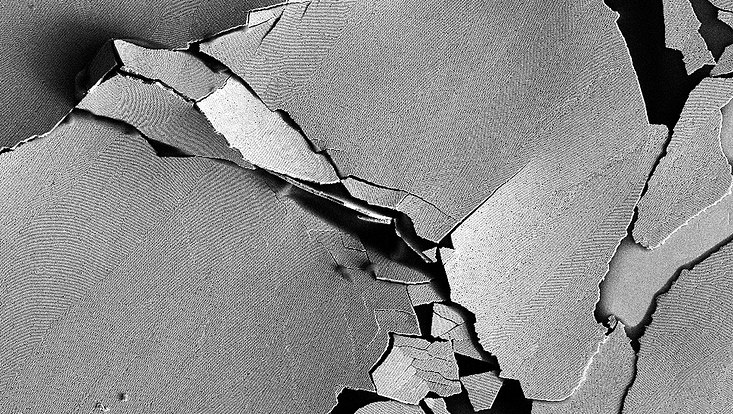 Photo: Florian Schulz, Holger Lange
The image from the scanning electron microscope offers room for different interpretations. In fact, it shows a supercrystal of self-assembled gold nanoparticles. The breaking edges allow for a view of the inner structure.
Following the successful Arts & Science exhibition of the Cluster of Excellence "CUI: Advanced Imaging of Matter" in Hamburg's City Hall, the exhibition will be on display at the European XFEL in Schenefeld until September 11, 2023. After that, the exhibition will move directly to the CFEL.
The large-scale visualizations in the exhibition provide insights into the scientific phenomena being researched in the Cluster of Excellence "CUI: Advanced Imaging of Matter". The fascinating images resemble fossils, wickerwork patterns or wave-like structures and offer plenty of room for interpretation. It is left to visitors to let the aesthetic appeal of the illustrations take hold, or to gain a deeper understanding of the underlying physics and chemistry through the accompanying texts. Photos of state-of-the-art labs and the light sources complement the visuals; QR codes lead to videos in which researchers explain their work.
"We want to invite visitors to discover the artistic and aesthetic in the natural sciences," says Prof. Dr. Peter Schmelcher, board member at the Cluster of Excellence and co-founder of the Arts & Science initiative, which began in 2017 with an initial exhibition at the Hamburg City Hall. In the meantime, the cluster's researchers submitted new images and new photos of the facilities were taken, which were at display in the City Hall in spring.
Until September 11, the exhibition will be on display on the upper level of the foyer in the European XFEL main building in Schenefeld, Holzkoppel 4. It is open Monday through Friday from 9:00 a.m. to 5:00 p.m., and admission is free.
Afterwards, Arts & Science will move directly to CFEL, Luruper Chaussee 149, where it will be on display for about a month.
CFEL opening hours: Monday to Friday 8 am to 4 pm