This page:UHH > CUI: Advanced Imaging of Matter > Cluster of Excellence > News > Network against the coronavirus
Network against the coronavirus
10 February 2021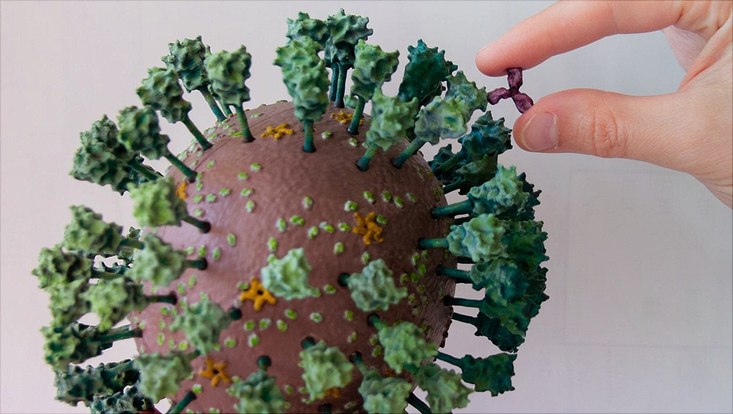 Photo: Judith Flurer / RVZ
This is what the coronavirus looks like: You can see the spines (green) and two other types of protein molecules (light green and yellow) on the viral envelope.
Since the end of 2020, structural biologist Dr. Andrea Thorn and her team have been strengthening the diverse Corona research at Universität Hamburg. She will continue to lead the "Corona Structural Task Force" at the Department of Physics, which is funded by the German Federal Ministry of Education and Research, as well as her research in method development for structural biology.
Thorn's group is located in the Hamburg Advanced Research Centre for Bioorganic Chemistry (HARBOR), a new research building on the Bahrenfeld campus. In the coming years, she will continue her research on the virus here together with scientists from the Cluster of Excellence "CUI: Advanced Imaging of Matter" and the "Centre for Structural Systems Biology" (CSSB).
Lecture on Corona Research
On 10 February 2021 at 4 p.m., Dr. Andrea Thorn will present her research and the work of the "Coronavirus Structural Task Force" in the online lecture series on COVID-19, launched by the Leibniz Science Campus InterACt together with the Helmholtz Graduate School for Data Science in Hamburg (DASHH). The goal is to foster new contacts and possible collaborations between researchers as well as to give outsiders insight into this research. Information on how to register for the COVID lecture series is available on the website of the Helmholtz Graduate School DASHH.
For more information please view  "Netzwerk gegen das Coronavirus" in the UHH Newsroom.