This page:UHH > CUI: Advanced Imaging of Matter > Cluster of Excellence > News > Again: Highly Cited Researchers
Again: Highly Cited Researchers
18 November 2020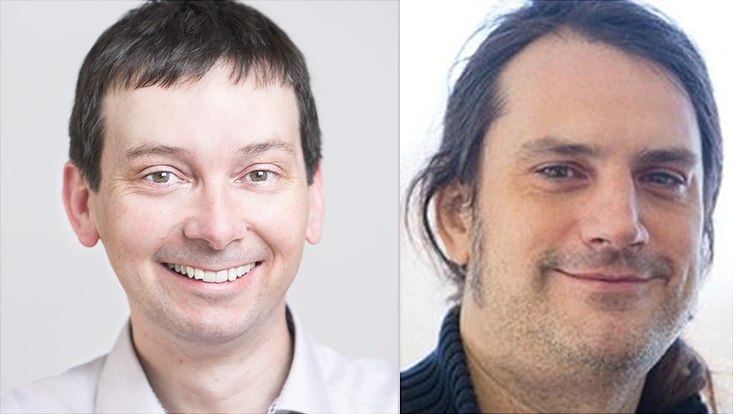 Photo: DESY, privat
Prof. Henry Chapman (left) and Prof. Wolfgang Parak
Two scientists from the Department of Physics at Universität Hamburg have made it onto Clarivate's "Highly Cited Researchers" list published today. Prof. Henry Chapman and Prof. Wolfgang Parak are researching in the Cluster of Excellence "CUI: Advanced Imaging of Matter" and were also on the list last year.
The global list of Highly Cited Researchers 2020 was published today - three researchers from Universität Hamburg, including two members of the cluster, and two other colleagues from the Deutsches Elektronen-Synchrotron are named:
Prof. Dr. Henry N. Chapman, leading scientist at DESY, Universität Hamburg, CUI
Prof. Dr. Wolfgang J. Parak, Universität Hamburg, CUI
Prof. Dr. med. Klaus Pantel, Universität Hamburg, UKE
Anton Barty, DESY
Dr. Thomas White, DESY
In 2020, 6167 researchers from 60 countries are on the list, including 345 researchers from Germany. Their names are drawn from the publications that rank in the top 1% by citations for field and publication year in the Web of Science citation index.
Since 2002, Clarivate Analytics has presented an annual list of researchers who have shown a significant and broad impact in a particular field or fields over the last ten years through the publication of several papers highly praised by their colleagues
The scientists of the cluster and DESY are listed in the Cross Field category, which was introduced for researchers who have contributed to highly cited work in different fields.