Award for two outstanding female scientists
21 November 2019
1 von 6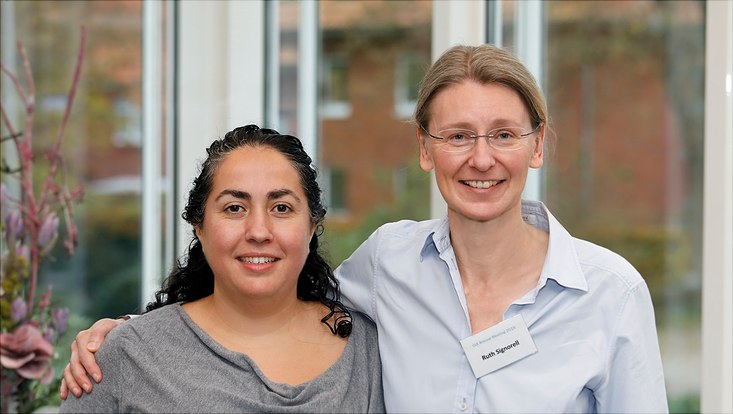 Photo: UHH/CUI, Peter Garten
The prizewinners Prof. Alicia Palacios (left) and Prof. Ruth Signorell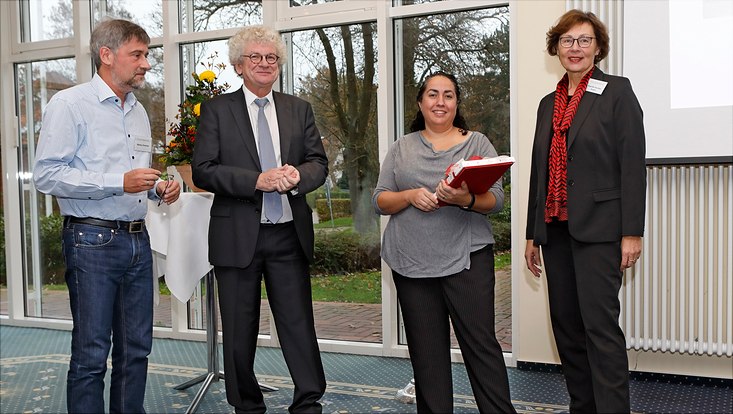 Photo: UHH/CUI, Peter Garten
From left: Prof. Markus Drescher, who gave the laudatory speech, cluster spokesman Prof. Horst Weller, Prof. Alicia Palacios and Dr. Angelika Paschke-Kratzin, Equal Opportunity Commissioner at Universität Hamburg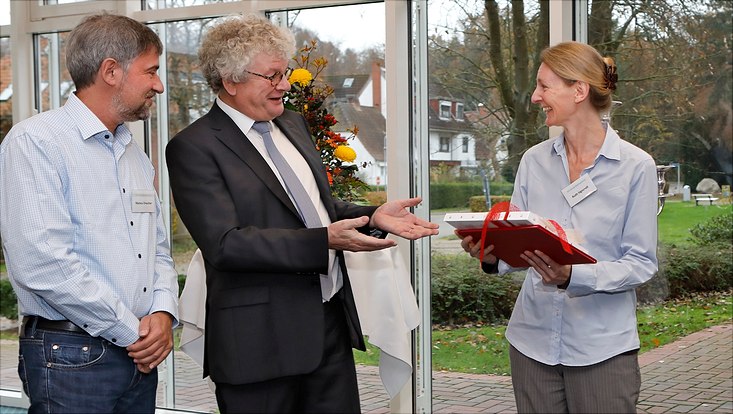 Photo: UHH/CUI, Peter Garten
Fitting to the conference venue at the Baltic Sea: Prof. Ruth Signorell was visibly happy about the Lübeck marzipan.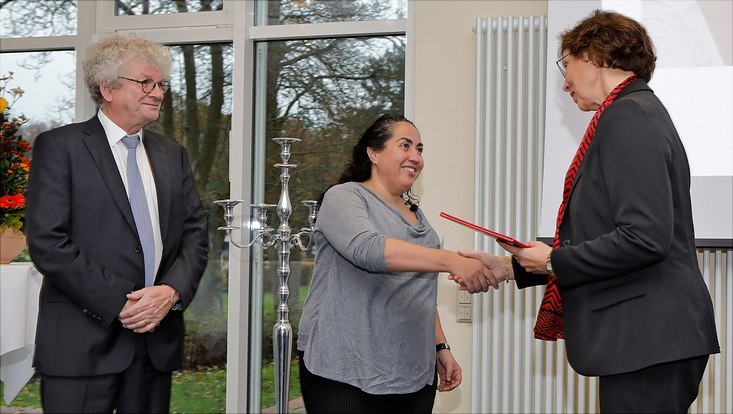 Photo: UHH/CUI, Peter Garten
The prizewinners made a difference said Dr. Angelika Paschke-Kratzin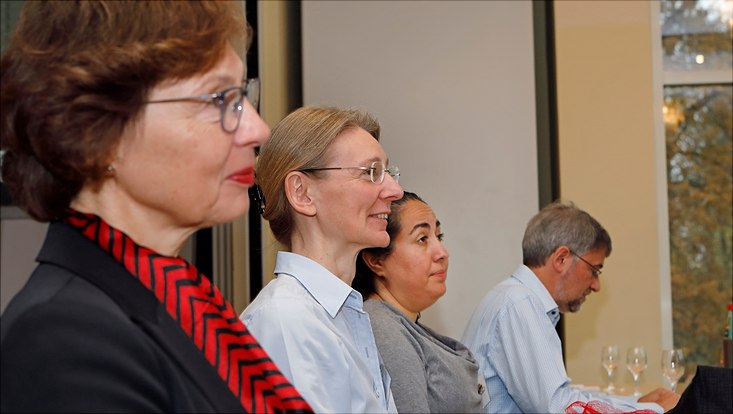 Photo: UHH/CUI, Peter Garten
The Mildred Dresselhaus Program is one of CUI's most important programs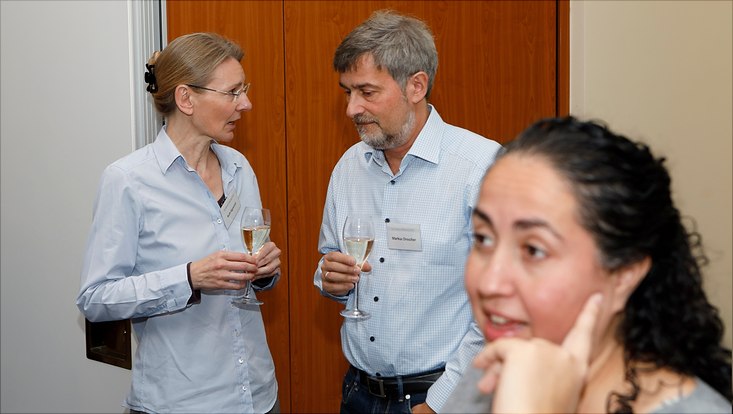 Photo: UHH/CUI, Peter Garten
Honoring outstanding female scientists, creating role models and exchanging ideas are central aspects of the program
Prof. Ruth Signorell and Prof. Alicia Palacios were awarded the Mildred Dresselhaus Prize at the annual conference of the Cluster of Excellence "CUI: Advanced Imaging of Matter" in Hohwacht on the Baltic Sea. After the prizewinners had already been named at the beginning of the year, the certificates were now handed over and the scientists honored.
Cluster spokesman Prof. Horst Weller described the Mildred Dresselhaus Program as one of CUI's most important programs, under which twelve international female scientists have now been honored. They are honored for their outstanding research achievements and at the same time serve the Hamburg community as highly inspiring role models. The German Research Foundation has already included the program in its instrument box.
"I cannot stress enough how important visible and committed role models can be for aspiring scientists," said Dr. Angelika Paschke-Kratzin, Equal Opportunity Commissioner at the Universität Hamburg. Thanks to the prizewinners, who are so actively involved in Hamburg, the Mildred Dresselhaus Program has actually "made a difference".
Ruth Signorell is an award-winning professor of physical chemistry at the ETH in Zurich. Prof. Markus Drescher emphasized the high relevance of her research for science in general as well as for medicine and health with strong content and methodological links to all areas of the cluster. "I am very pleased and deeply honored," said Ruth Signorell, describing Hamburg as an ideal location for this scientific research.
Alicia Palacios from the Universidad Autónoma de Madrid is an Assistant Professor in the Department of Theoretical Chemistry and researches ultrafast electronic processes in small molecular systems. Markus Drescher referred to her impressive lectures and high number of scientific publications. Her research is closely linked to Research Area B of the Cluster. Palacios emphasized how much she is looking forward to the collaboration in Hamburg and how much she cares about the contents of the Mildred Dresselhaus Program.
In the following scientific lectures, both prizewinners gave first insights into their work and the further opportunities for cooperation with the researchers of the cluster. As part of the Program, research stays in Hamburg are planned for next year.
---